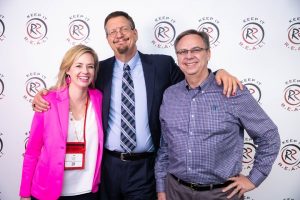 Michael and I had the pleasure of hearing Penn Jillette speak on business. If you don't know, Penn Jillette is an actor, magician, author of 8 books, producer of two TV shows, and half the duo of the headlining group Penn & Teller. He's also been on radio and on ABC's Dancing with the Stars and NBC's Celebrity Apprentice. Penn and Teller have been working together for 45 years continuously with no breaks and are officially the longest partnership in show business.
During the interview, Penn gave a few pieces of business advice:
"Branding has to come from your heart or you aren't going to like it." You have to like doing what you are doing or that's going to show through to your audience. Digital Minds has been in business for over 20 years and we still love what we are doing!
"Don't give or take criticism unless money changes hands." Someone needs to know your goals to give you criticism on how to improve. If they aren't paying you or you aren't paying them, don't listen to it!
"Showing up on time and doing what you say you are going to do, it's going to be all you have to do." But as Penn's son pointed out to him that it's really only one thing because showing up on time is doing what you said you were doing to do. So really business is just doing what you are saying you are going to do.
There you have it. A few business tips from Penn Jillette, author, producer, performer!